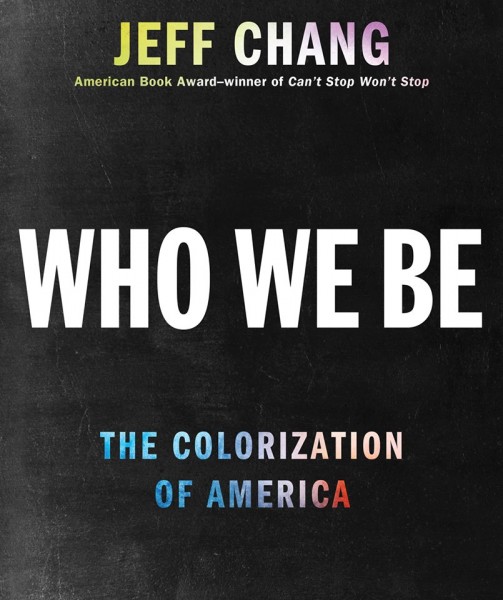 Jeff Chang (DJ Zen!) has a new book, Who We Be: The Colorization of America, out today. We can't wait to read it!
Click the link to purchase Who We Be: The Colorization of America
Join him tonight at Pegasus in Berkeley or in select cities across the US for the book tour:
10/21 Berkeley, CA
Pegasus Books Downtown
2349 Shattuck Ave, Berkeley, CA 94704
10/23 Stanford, CA
Institute for Diversity in the Arts + African & African American Studies
Black Community Services Center
418 Santa Teresa St.
Stanford, CA 94305
10/23 San Jose, CA
MACLA
Feat. Julio Salgado, Yahaira Carillo, and SCAPE Martinez
510 S 1st St, San Jose, CA 95113
10/24 Berkeley, CA
Go To This F**kin' Talk w/Adam Mansbach
Berkeley Rep Roda Theatre
2025 Addison St, Berkeley, CA 94704
10/28 New York, NY
Asian American Writers Workshop
Nuyorican Cafe
Nuyorican Poets Cafe
236 E 3rd St, New York, NY 10009
11/5 Los Angeles, CA
Book talk & Signing
UCLA Humanities A51
Los Angeles, CA
11/6 Los Angeles, CA
Loyola Marymount
Book talk
Los Angeles, CA
11/8 Los Angeles, CA
Panels & booksigning
Westin Bonaventure
11/10 Oakland, CA
First Congregational Church, Oakland
2501 Harrison Street
Oakland, CA
11/11 San Francisco, CA
Benefit for Asian Americans for Civil Rights & Equality & Hyphen Magazine
City College Chinatown Campus
808 Kearny Street
San Francisco, CA 94108
For details, check back soon!
11/14  Dallas, TX
Multiple events-Check back soon!
Hilton Anatole
2201 N Stemmons Fwy, Dallas, TX 75207
11/17  Philadelphia, PA
Swarthmore College
11/18  Philadelphia, PA
Philadelphia Asian American Film Festival
Free Library of Philadelphia
1901 Vine St.
11/18  Philadelphia, PA
704 South St
11/19  Boston, MA
Boston College
Gasson Hall, Room 100
Boston, MA 02467
11/20  Williamstown, MA
Griffin Hall
Williamstown, MA 01267
11/22 Miami, FL
Miami Book Festival
12/3  Berkeley, CA
University of California at Berkeley
African American Studies
With Justin Simien and Erin Aubry Kaplan
Los Angeles Public Library
Leave a Reply