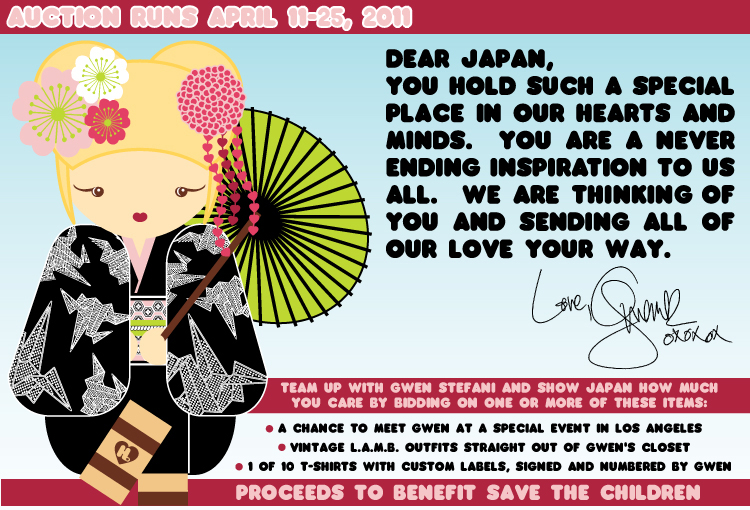 Gwen Stefani Event and Japan Relief T-Shirts
Gwen has already donated $1 million to Save The Children's Japan Earthquake-Tsunami Fund.  She will also be hosting an event to raise additional monies for them.   An invitation to attend will be available only through auction.  In addition to the event auction, Gwen has designed a limited edition Harajuku Lovers t-shirt that is available for purchase immediately.  Other auction items will include vintage L.A.M.B. items straight from Gwen's closet and limited edition t-shirts with special custom labels, signed and numbered by Gwen.  All details are listed below.
BENEFIT AUCTION & EVENT:
From April 11 – 25, fans can bid on the chance to join Gwen for a private Harajuku-themed tea party at Los Angeles' first Japanese-style cosplay cafe, Royal/T, along with the other exclusive items.
The auction will begin April 11 but click here for more information and to sign up to receive auction updates from Gwen.
Auction and event proceeds will benefit Save the Children's Japan Earthquake-Tsunami Children in Emergency Fund to help in the relief and recovery effort in Japan.
LIMITED EDITION HARAJUKU LOVERS T-SHIRT designed by Gwen Stefani: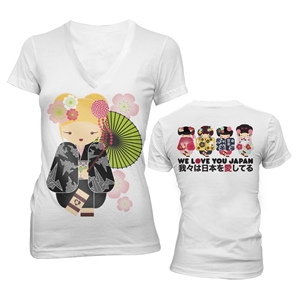 On Sale Now!  CLICK HERE to purchase.
100% of net proceeds from the Harajuku Lovers limited edition T-shirt sales will benefit the American Red Cross' Japan relief and recovery efforts.