Nick Accurso & Mr. Dibbs are trying to bring  Scribble Jam back!  Check their Kickstarter page here.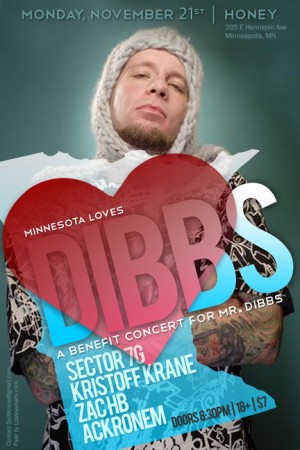 We were distressed to learn that Mr. Dibbs is battlingCirrhosis, which is the final phase of chronic liver disease.  Friends have put together this event at Honey tonight featuring Sector 7G, Kristoff Krane, Zac HB and Ackronem. Every penny raised will go directly to Dibbs.  No one will be turned away from the door due to lack of funds.
Details: Monday, Nov. 21st / Honey MPLS / 8:30 PM / $7 / 18+
Dibbs is no longer able to work due to his debilitating condition, so we're kindly requesting that people step up and help ease the financial pains while he deals with the physical ones. Any amount would help.  To donate money you can go Paypal to the address: Hellkitchen@netzero.com  (Mr. Dibb's wife, Kristin Rose's account).  If you don't have a credit card to donate through PayPal, you can send directly to:
Brad Forste
4830 Poplar St
Cincinati, OH 45212
You can also buy something from the Mr. Dibb's page on our site, and we will send a donation in for you.
You can keep up with his progress by following him on twitter www.twitter.com/mrdibbs.